BABBIT® Speaker with RAINBOW™ Library
Regular price
€690,00 EUR
Regular price
Sale price
€690,00 EUR
Unit price
per
Sale
Sold out
Start your musical journey with Babbit® speaker. 
WHAT'S IN THE BOX
---
BABBIT® SPEAKER Cloudy Blue
7 INTERACTIVE STICKERS
7 INTERACTIVE BLANK CARDS
7 INTERACTIVE CARDS with BABBIT RAINBOW™ LIBRARY
---
Child safe, low voltage power supply

User guide
---
(!) To access the playlists recommended by Babbit Rainbow™, you need to use Spotify®
No confusing buttons, no screen, no parental assistance needed! Kids play music by placing their own toys or Babbit interactive cards on the premium wooden home speaker.

Babbit combines a high-tech wifi speaker, seamless Nordic design, and integrated Babbit TUNETAG technology to help families experience music in a fun and interactive way.

Using the Babbit app, parents can program toys to play their kids' favorite albums, playlists, podcasts, language classes, stories, voice messages, sounds. You name it! And you can top up your stickers at any time. 

Babbit's beautiful minimalist design is available in neutral finishes to complement your interiors. Choose from Dusty Blue, River Green or Paperwhite.

After experiencing the Starter Set, you'll be inspired to upgrade to our Library Set.

BASIC

Materials: Polished wooden body, Metal speaker grills covered with acoustic fabric


Dimensions: 50x20x20cm


Weight: 8.2kg


External power supply: 18V


Power consumption: Energy-efficient Class-D amplifier


Music source: Spotify Connect®, Online Radio streams, local files on USB: MP3, FLAC


SOUND

2 x 16cm (6.5") full-range speakers with tweeter cone


Texas Instruments high-performance, stereo closed-loop Class-D amplifier


High-performance DAC with Burr Brown™ audio technology


CONTROL & CONNECTIVITY

Set up via Babbit App (compatible with Android and iOS)


Wi-Fi IEEE 802.11 a/g/n/ac Frequency 2.4/5GHz


Bluetooth version 4.0 or newer


100 Mbps Ethernet


Babbit TUNETAG™ based on built-in NFC reader


MUSIC SOURCE


Spotify Connect®, Online Radio streams, local files on USB: MP3, FLAC


OPERATING SYSTEM


Babbit OS + OTA (over-the-air update) 
Includes new features, music formats, and streaming services, new external device connectivity.

DELIVERY
We are shipping all over the world. But please note that there might be local duties/customs/local taxes applicable on the shipment to your country and you will be responsible for payment (if any).

Customs duties do not apply to US and EU customers. We are shipping Babbit® sound system from the EU, Riga, Latvia.

Shipping calculated at checkout!

RETURNS

When you are happy, we are happy! So we will do our best to ensure a positive Babbit® experience in your family. If there is any reason you would like to return it, please fill out this form. Moreover, within 14 days from the purchase 100% money-back guaranteed, no questions asked. Although we are pretty sure you and your kids will LOVE Babbit.

 

Check out our WARRANTY & TECH SUPPORT policy.
Share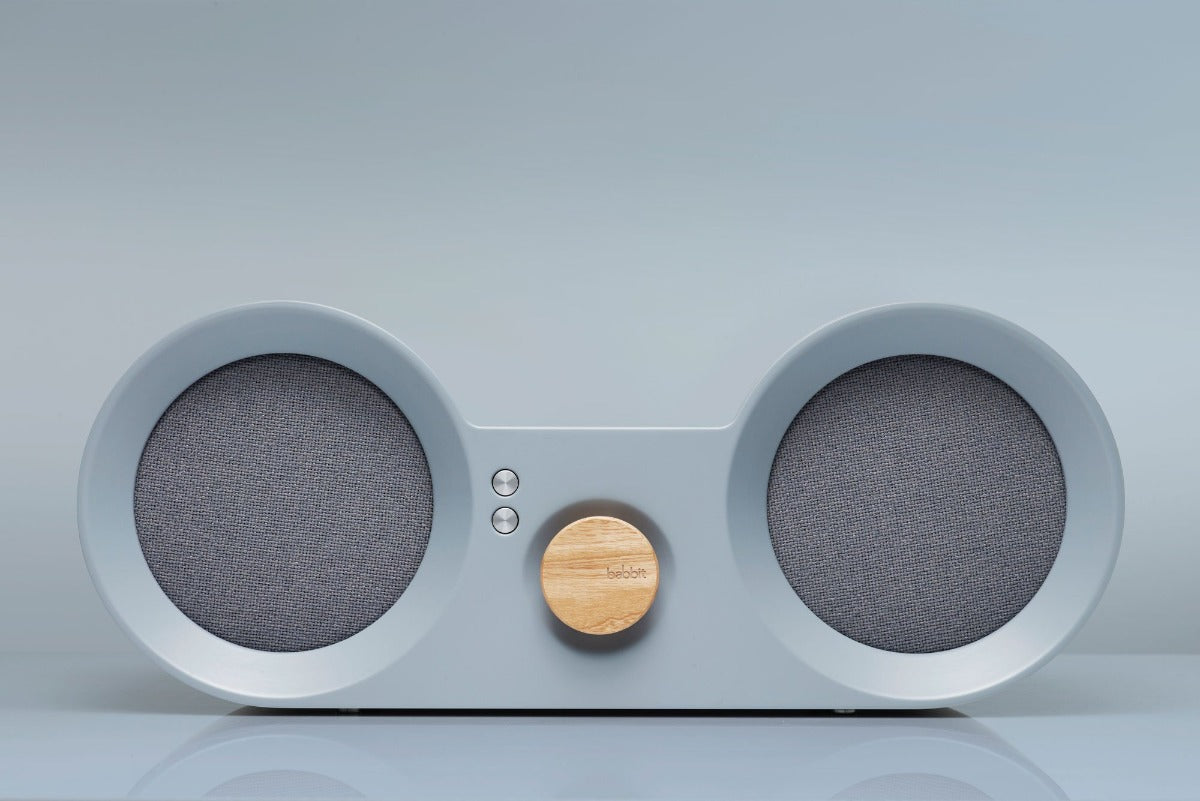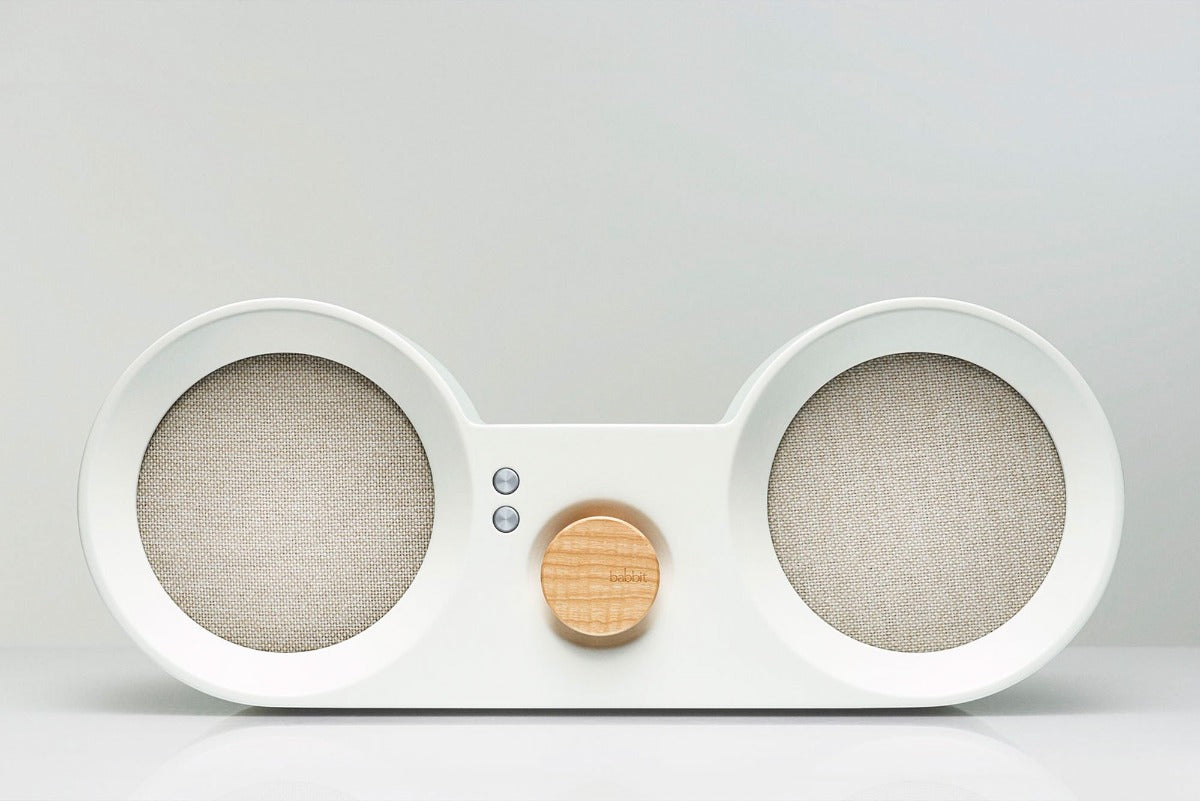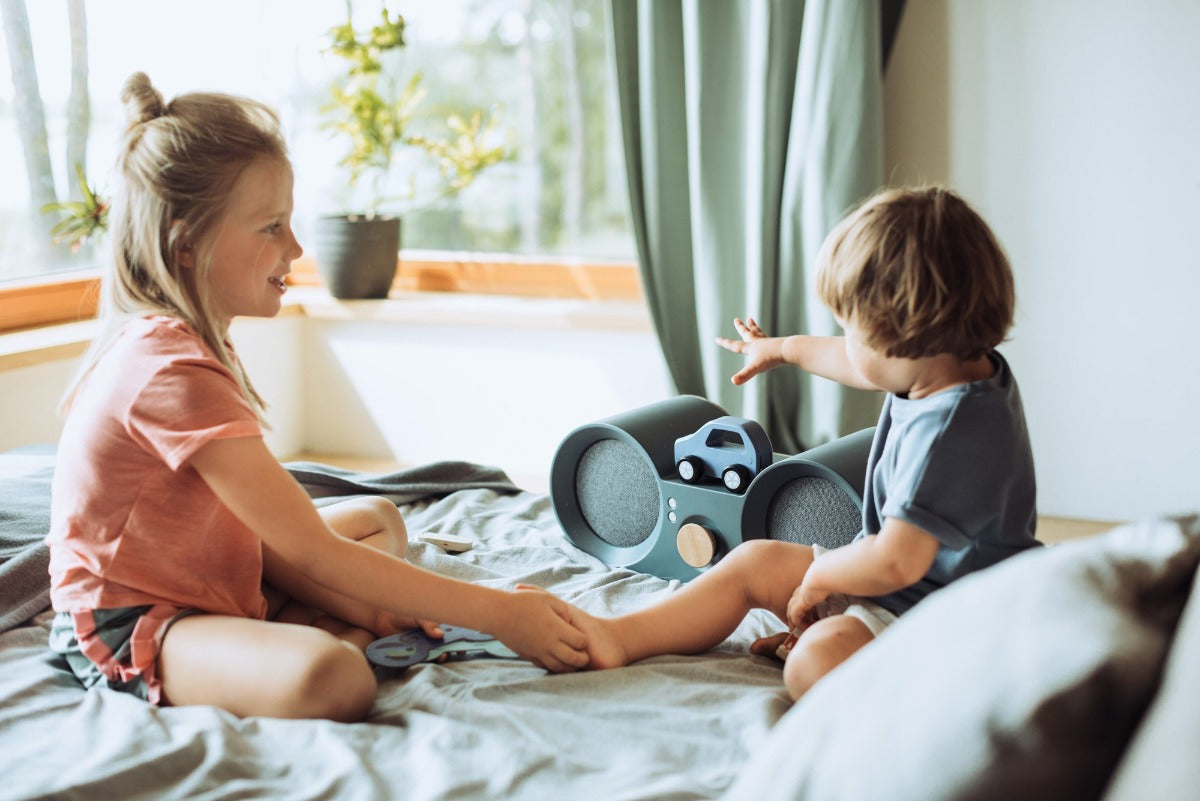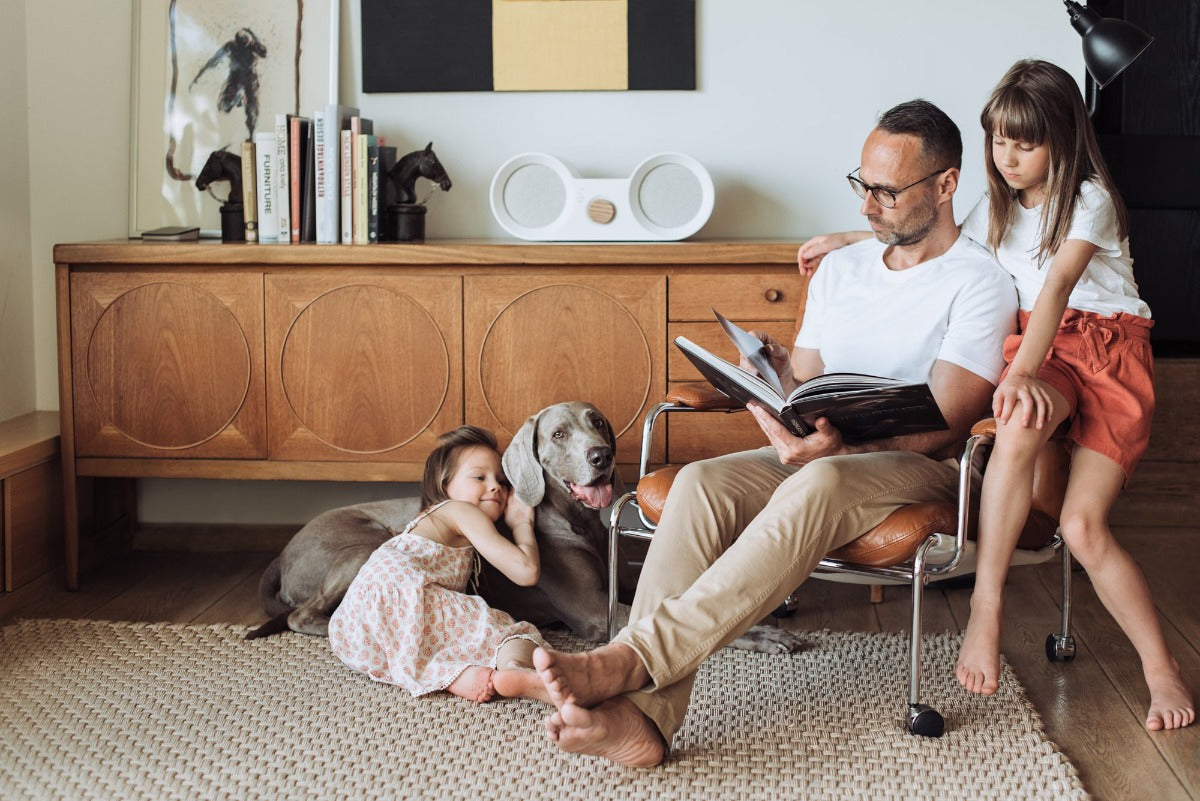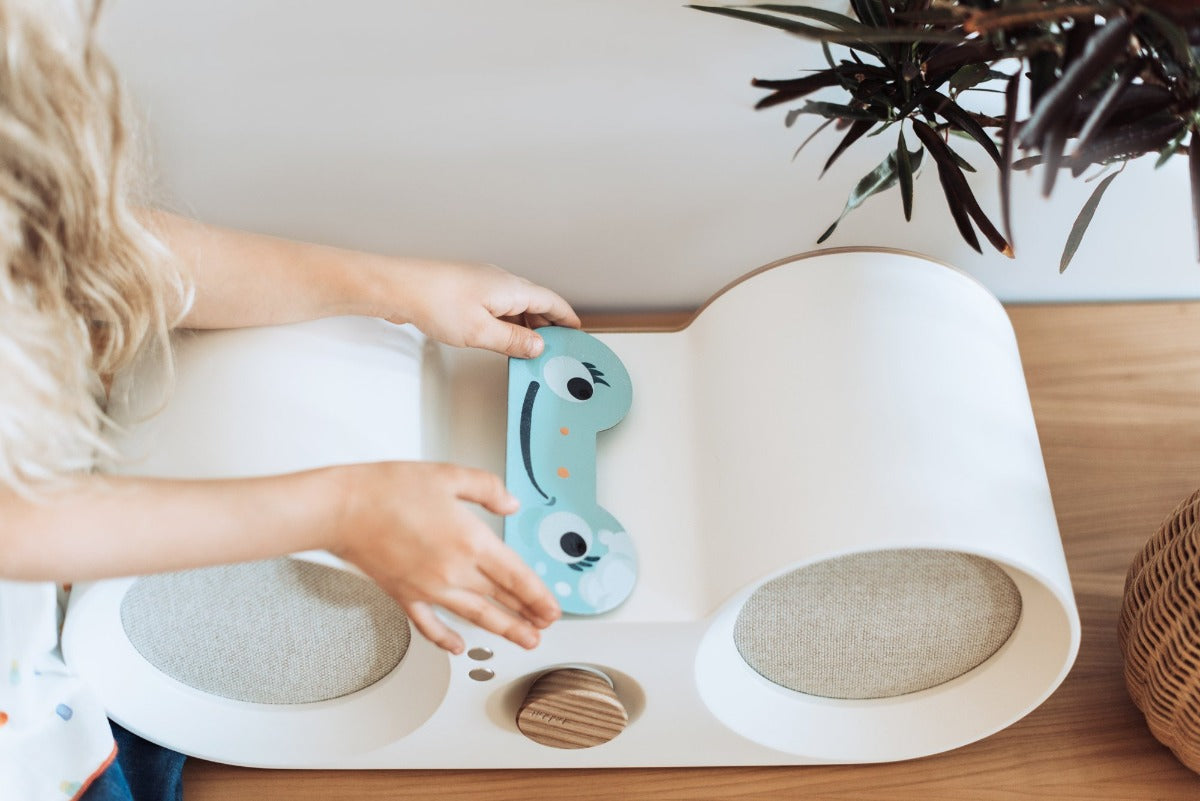 Awesome!!!
This is soooooooo Awesome! Great speaker for our family and interactive toy for kids.
Just as easy as it is for kids to use: just put a toy with label or any of playlist cards on the speaker and the party begins. The eldest son ( 6 years old) has made his own star wars playlist on the empty card, little daughter ( 3 years old) uses her favourite cards by memory, even our baby girl ( 1 year old) understands that she has to put her foxy on it to get her nursery songs. They do not need any gadget or our help.
And the most awesome thing is that we have got also playlists of such a great selection of diverse music: kids now choose music according to their mood, colour (how cool is that?), room of the house, dance style, nature elements. I like music school cards that are educational for adults too.
When they are ready for some evening fairy tales - they choose when and for how long time to listen.
Kids in charge for their own music - our little DJs are so happy and proud of themselves. Happy kids and happy parents :) I cannot evaluate this enough. Babbit is AWESOME!!
так горжусь
так горжусь тем, что баббит был разработан в Латвии. нашей дочери 1,7 года, но она сразу поняла, как работает баббит, и ловко меняет трек-карты. Самые положительные впечатления от покупки. Люди вкладывали душу в производство баббита
Best music experience ever
Thank you very much, Babbit!
We are very excited about it. Playlists are adorable. Babbit is not only for children, but also for adults! Love it! Recommend!
Babbit is simply fantastic!
Everything from purchase to delivery has been fantastic! :)
The packaging, the small tokens of thanks from the company, the awesome customer service available when you need it to the actual star of this whole project - Babbit!
It is so intuitive that even the littlest ones can use it without any problems. I love the fact that there are some playlists that are set already so you can pop something on and groove and I also love that the blank cards and stickers allow you to assign playlists whenever your or your child's little heart desires. It is absolutely value for money and an investment in more music filled fun now and for the future. If you're on the fence about it, do it! You won't regret making Babbit a part of your family!
Everything about Babbit has been great!
Everything about Babbit has been great so far - design, performance, outstanding customer service (as we experienced some set-up difficulties due to internet problems, the Babbit team devotedly helped us during the weekend). Our boys (8, 6 and 2,5) have been using Babbit a lot, as well as we - parents. The diverse playlists are enjoyable not only for the kids but also adults. Thanks for giving an opportunity to introduce kids with diverse music in such a pleasant and simple way.